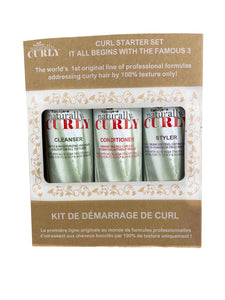 A great place to begin!
This is the perfect pairing, for all hair types, until hair becomes well moisturized, bouncy and clustered. Once you see what your hair is capable of, it's easy enough to switch things up a little or add on the bells and whistles.

1 x 8oz Cleanser is a mild and minimal suds cleanser which prepares curls to receive the best conditioning possible, without stripping hair and scalp.

1 x 8oz Conditioner is all the moisture without weighing curls down. It only needs a partial rinse when trying to gain as much moisture, in the fastest time.

1 x 8oz Styler was created to prevent confusion of how much styling product to use. We've taken out the guess work by creating the perfect formula to add a little back up conditioning, gel and oil, all in the same formula. It can be used on soaking wet hair (in the shower), after towel blotting hair, or as a 2nd day touch-up. See our videos for some great ideas!

Packaged in an Eco- friendly 100% biodegradable / compostable Kraft paper box, perfect for gifting!