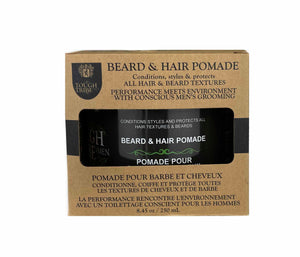 Perfectly for gifting, we offer Tough Tribe 4Men Beard & Hair Pomade in an eco- friendly, biodegradable, 100% Kraft paper box.
Tough Tribe 4Men is designed to meet the unique demands of clean, professional grooming. It's about time!

The warm scent of A Gentleman's Shampoo, teams up with an invigorating, cool Peppermint Conditioner. Top that off with a little Beard & hair pomade to start your day feeling fresh and confident.

Our bottles are 100% PCR which leaves a carbon footprint 60% smaller than new plastic, with refill pouches available as we work toward a circular economy rather than a linear one of waste.

Tough Tribe 4Men Contains Aloe Vera, botanicals and antioxidants traditionally known for their scalp and hair benefits.

We love our men- Welcome to the Tough Tribe.
Welcome to our family- our tribe. Tough is one of eight surnames within the Tribe of Mar.
The ancient Scottish kingdom lies between the Don and the Dee, from the mountains to the sea.
I've liked these products since the first time using them and now have them on auto-ship. The ingredients are high-class and perfect for my hair. Shout out to my wife, Sarah, for the introduction!
Dereck S
Great service and quick delivery! Got my gift within days of ordering, and I fell in love with the smell. I just put in an order for my father.
Jack F
Not really sure if these products fit my needs at first, as I'm not a fan of fancy products. But after trying them, I'm hooked.
Andrew P
Just had my first order last night and love all all three products! I look forward to the refills. This service is worth 5-star rating.
Collins M
Say no more! A must have item for anyone who is looking for a luxury line.
Harris K
You guys take luxury products to a next level with your service! I love the packaging and knowing I can get refills next. Doing my part for the earth and for the public- with smelling so great!
Richard Q